What should you wear for your Hokkaido trip?

One of the most important things you need to keep in mind when going to Hokkaido is your clothing. What you should wear will depend on when and where you plan to visit. Hokkaido has 4 distinct seasons, and the appropriate clothing for each season can be roughly summarized as follows: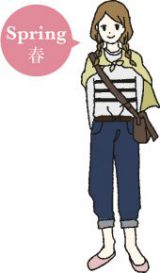 Spring (April to May): Temperature usually ranges from 5℃ to 20℃. Daytime is warm but nights are chilly. You should wear a light coat, jacket or sweater on top of your regular clothes. There is usually still snow remaining in many areas in early April, so you may also need to prepare winter clothing.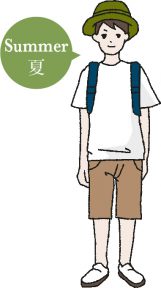 Summer (June to August): Summers in Hokkaido are less humid and more comfortable compared to mainland Japan.Temperature usually ranges from 15℃ to 25℃, but may sometimes go up to and over 30℃. T-shirts, shorts or jeans, and sneakers or sandals can be comfortable in the daytime. However, the nights can still get cold, so you should bring an extra jacket just in case.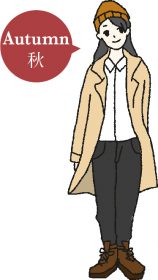 Autumn (September to October): Temperatures tend to drop drastically as the short Hokkaido summer ends, and it can range between 5℃ to 20℃. You should wear a light coat, jacket or sweater on top of your regular clothes. You may also need to wear winter accessories in case it gets cold. Snow can start to fall in mountainous areas as early as October.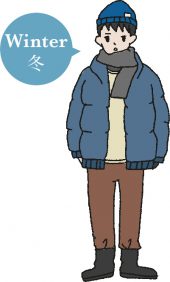 Winter (November to March): Temperature ranges from -20℃ to 5℃. During the coldest months of January and February, daily high temperatures usually remain below 0℃. You should wear thermal underwear, a heavy coat or jacket, winter shoes or boots, hats, gloves, ear protection, and other winter accessories. Since it may be warm indoors, multiple layers are recommended so you can easily slip layers on or off depending on the temperature.
Regional Variations
Since Hokkaido is a large island, you should also bear in mind that there are regional variations in climate and weather. In winter, the northern and western parts (Sapporo, Asahikawa, etc.) usually get a lot more snow, while the eastern parts (Obihiro, Kushiro, Kitami, etc.) are sunnier but significantly colder. The southern Hakodate region has a relatively mild climate, and is the earliest area for cherry blossom blooming in Hokkaido. In summer, coastal areas tend to be cooler than inland areas.
Other Useful Items 


Backpack
Useful for carrying your belongings, especially when hiking or cycling. Make sure to wear your backpack in front or take it off when riding crowded trains, buses, or street cars to avoid disturbing other passengers.


Camera
Hokkaido is full of picturesque sights whatever the season. For photography buffs, high-resolution cameras are highly recommended.



Hat
Hats and other headgear help protect against the sun's harmful rays and the chilly wind, especially when you're doing outdoor activities.

Towel
Hokkaido is home to many natural hot springs and foot baths, and a small towel can be handy for drying off after a dip.


Swimwear
Don't forget to bring these if you plan to swim or play in the ocean during summer. There are also some hot spring areas that allow the use of bathing suits.


Insect Repellent
Spray it all over your body to prevent insect bites when enjoying nature and outdoor activities, especially during spring and summer.


Kairo Heat Packs
Attach them to your clothes or put them in your pockets to help keep your body warm during the cold winter. They are available for sale at most convenience stores, drug stores, and supermarkets.